The Four
Requirements for CFP candidates Seeking Initial Certification:
Education: Bryant's leading CFP® Curriculum satisfies the first part of this requirement. The second part is completed when you have verified that you hold a college or university bachelor's degree or higher.
Examination: After successfully meeting the education requirement, you are eligible to register for the CFP® Exam, which assesses your ability to apply your financial planning knowledge to financial planning situations, assuring the public that you have met a level of competency appropriate for professional practice.
Experience: CFP Board requires you to have three years of professional experience in the financial planning process or two years of apprenticeship experience that meets additional requirements. Qualifying experience may be acquired through a variety of activities and professional settings including personal delivery, supervision, direct support or teaching.
Ethics: CFP Board conducts a detailed background check on each candidate. This includes a review of disclosures made on the CFP® Certification Application. Authorization to use the CFP® marks is approved after the background check is successfully concluded.
More About the CFP® Certification Examination:
The exam is offered in 3 exam cycles per year (March, July and November).
Each exam cycle consists of a 7 day period. Candidates schedule their exam on 1 of these 5 days.
The exam is split into two 3 hours sessions and is entirely computer based.
There are 170 multiple choice questions, as oposed to 280 questions in years past.
Candidates can select from between 265 Prometric testing sites.
Registering for CFP® Examination:
Bryant University provides verification of your completed education requirement to CFP® Board via the Education Verification System. CFP® Board's submission deadline for the November 2017 Exam cycle is October 11th.
In order to meet this deadline all coursework must be completed by Monday, October 2nd to allow time for processing and submission to CFP® Board. Bryant University also requires students to submit the Personal Information Release Form by the same date. Any requests for submission to CFP Board after this date may not be processed in time.
How to Use the Bryant Learning Platform:
The Bryant CFP Homepage

My Home is your starting point. You access each of your Programs from here.
The Course Selector lists your courses. Use the drop down to jump between courses easily.
Alerts will notify you when your scores are updated. This will be useful in the Capstone course.
The Personal Menu allows you to edit your profile, notification settings and your account settings.
The My Courses window houses your CFP Program courses. Click a course to move to that course's homepage. From there you can browse to where you left off last using the Content Browser or jump in quickly using the handy Bookmark function. Note: The Capstone Course becomes available once you have completed the first six core CFP Courses.
Use the Calendar tool to arrange and visualize course events. You can use iCal to synchronize the Calendar tool to your personal calendars (ie. Outlook, Google Calendar, even iPhone, Android, or Blackberry).
The My Progress tool allows you to check your progress in a course. Check out all nine Progress Indicators.
Bryant stores many helpful links in the Student Resources area.
Virtual Classroom students will find information on their upcoming Virtual Sessions when they click this icon. This is also where your Cohort's Archived Sessions are kept for the duration of your enrollment.
The Learner Help icon will launch a series of short videos introducing students to the Learning Environment.
The Bryant Financial Planning Blog is an excellent resource for students looking for answers to commonly asked questions.
A Bryant CFP Content Page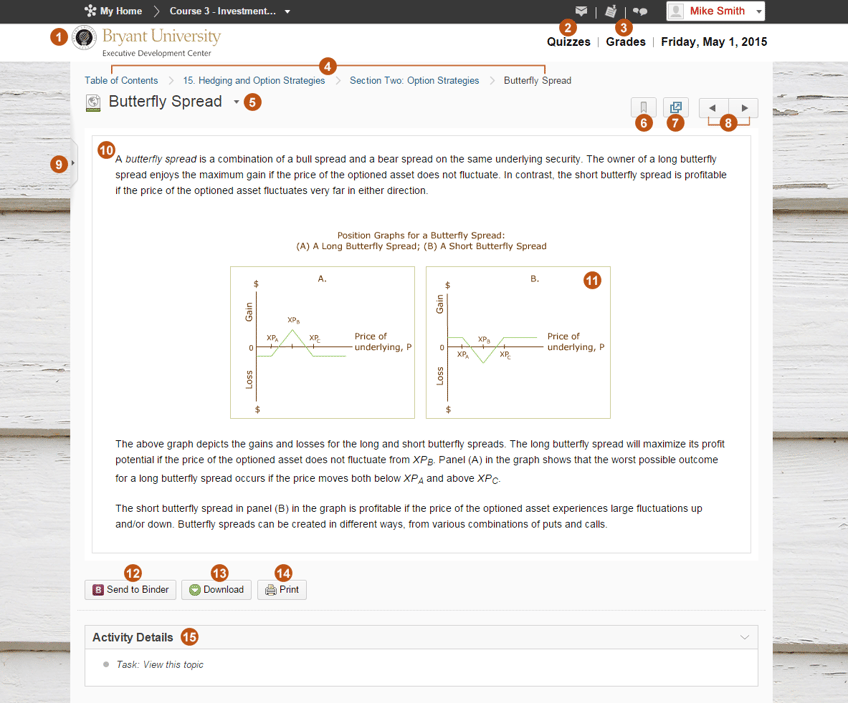 The Program Dashboard is always just a click away.
Access your previous quiz and exam attempts from the Quizzes list.
All of your Grades are found here. This button is the easiest way to quickly see your Course progress.
The Table of Contents Path allows for full navigation. Click the first link to view all Modules in the current Course. Click the second link to view all Sections in the current Module. And click the third link to view all pages in the current Section.
This drop down allows you to complete various actions for the current page.
The Bookmark icon adds the current page to your Bookmarks List, which is found on the Course Homepage. Mark pages that you feel are important and want to brush up on later.
Use this icon to view the current page in a new Browser Window.
Use these Arrows to move from page to page.
The Side Panel is the best way to quickly navigate to any page with the current Module.
Our proven Content has helped many as they build a successful Financial Planning practice.

Be on the lookout for various graphics, web activities, links, animations, audio snippets and more.

The Binder App allows students to manage, read and annotate course pages. The app needs to be download separately.
Use this button to Download the current page as a local file, which allows Students to take their learning experience offline.
Print the current page in a printer friendly format for old fashioned note taking.

This section will notify students of specific requirements that must completed on the current page.